Welcome to the Dark Deception Wiki!
The wiki about the horror game Dark Deception, in which anyone can edit!
Our wiki currently has a total of 102 articles, and 17,233 edits, since its founding on October 7th, 2018.
---
About Dark Deception
Developed by Glowstick Entertainment, Dark Deception is a story-driven first-person horror maze game. There's nowhere to hide and nowhere to catch your breath. Run or die - it's your choice. Trapped in a realm of nightmarish mazes with a mysterious woman, your only hope of survival is to find a way to escape the darkness.
---
Latest devlog
---
Characters
---
Featured Article
The Reaper Nurses are one of many enemies in Dark Deception. They will make their first appearance in Chapter 4 in the sixth level, along with Big Nurse.
The Reaper Nurses appear as slim female humanoids with light skin, dressed in 20th-century nurse clothing. Their faces are visibly obscured by what appears to be a white paper bag with a medical symbol marked on the front. Unlike the Big Nurses, however, the Reaper Nurses wear red combs across the top of their bags. Their clothing comprises of a red and white dress with red buttons on the shirt and the skirt, white leggings on their legs, and the same black first-aid signs on the shoulders, and belt. They wear red gloves, and red roller skates resembling heels. Most likely, all Reaper Nurses will be seen wielding a large syringe.
The Reaper Nurses, based on their voice reveal, demonstrate a friendly and seductive personality, greeting the player as a new patient. The Reaper Nurses have a sadistic side however, saying they get carried away sometimes in performing their duties, and that the player would unfortunately not have a quick and painless death.
Read more about them here.
---
Latest Activity
Our goal is to be the most reliable source of information of everything related to Dark Deception. This is a 100% non-profit online encyclopedia run by the fans, for the fans!
Please read our wiki guide before making contributions to the wiki!
---
Twitter
---
Dark Deception music
---
Latest blog posts
Create blog post
Blogs
Hello!  I have a question for y'all.  If you got your own level in Dark Deception, what would it be…

Read more >

DreadDuckieRevange is 9 years old! Please if you see his accounts block him.Ask Admins

Read more >
See more >
---
Poll
Who is the real enemy of the game?
What Chapter 4 enemy are you most hyped for?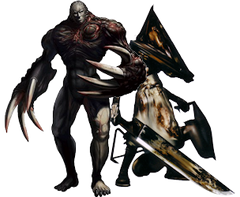 Community content is available under
CC-BY-SA
unless otherwise noted.