Wiki Guide • Recent Changes • Forum • Recent Posts • Community
The wiki about the horror game Dark Deception, in which anyone can edit!
Our wiki currently has a total of 146 articles, and 38,460 edits, since its founding on October 7th, 2018.
Developed by Glowstick Entertainment, Dark Deception is a story-driven first-person horror maze game. There's nowhere to hide & nowhere to catch your breath. Run or die - it's your choice. Trapped in a realm of nightmarish mazes with a mysterious woman, your only hope of survival is to find a way to escape.
Featured Article
Dark Deception Chapter 4 is the next chapter in the Dark Deception story. Face off against multiple new nightmares as Malak's dark army closes in. The Reaper Nurses, the Joy Joy Gang, and Mama Bear & her Trigger Teddies all await you. Dark Deception mixes the fast-paced style of classic arcade games with fun horror game design. Trapped in a dark world full of nightmarish mazes and ridiculous monsters, the only way out is to face the darkness and find a way to survive.

Read more about them here.
Activity
Blogs

Feceless
•
I've had this on my mind for a very long time, and I need to get this off my chest before it's too …
Kyrope
•
After two years, we came to the wonderful end. Chapter 4 is finally released. Have a JOY JOY DAY!
See more >
Our goal is to be the most reliable source of information of everything related to Dark Deception. This is a 100% non-profit online encyclopedia run by the fans, for the fans!
Please read our wiki guide before making contributions to the wiki!
Fanon Wiki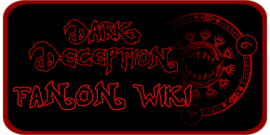 You may upload clean fanon pictures to your userpage and/or blog. You may also visit our sibling wiki, Dark Deception Fanon Wiki, for fanon material as well.