The English
  Dark Deception Compendium by the fans, for the fans.
The wiki about the horror game Dark Deception, in which anyone can edit!
We are currently maintaining 266 articles with 42,337 edits, since its founding on October 7th, 2018.
This Wiki is officially recognised by the developers at Glowstick Entertainment.
Developed by Glowstick Entertainment, Dark Deception is a story-driven first-person horror maze game. There's nowhere to hide & nowhere to catch your breath. Run or die - it's your choice. Trapped in a realm of nightmarish mazes with a mysterious woman, your only hope of survival is to find a way to escape.
IN OTHER LANGUAGES:

Русский

Wiki Guide • Recent Changes • Forum • Recent Posts • Community
Featured Article
The Mannequins are some of the many enemies in Dark Deception. They will make their first appearance in Chapter 5: Fated Conclusion, and are the main enemies in The Mall. They may share the level with other possible unconfirmed enemies.
Read more about them here.
Activity
Blogs
So, uh...
I'm making a Dark Deception fangame and would love to have custom Malak lines, plus some l…

Kyrope
•
Hi Dark Deception fans, our wiki server is finally up! But there is something I have to say firstl…
See more >
Our goal is to be the most reliable source of information of everything related to Dark Deception. This is a 100% non-profit online encyclopedia run by the fans, for the fans!
Please read our wiki guide before making contributions to the wiki!
Fanon Wiki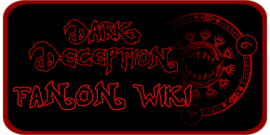 You may upload clean fanon pictures to your userpage and/or blog. You may also visit our sibling wiki, Dark Deception Fanon Wiki, for fanon material as well.